WEB & DESKTOP DEVELOPMENT
---
Craft with us

remarkable

flutter solutions
---
Be among the innovative pioneers who confidently rely on Flutter to deliver top-tier products. Rest easy knowing you're crafting the finest market offerings
web development

---

Creating compelling web applications and websites requires a blend of technical expertise and creative insight. We leverage advanced technologies like Strapi.js, Next.js, React.js, and Flutter to craft digital experiences that captivate and engage. Each project is approached with a comprehensive and individualized strategy, ensuring a solution that's not just tailored to your needs, but also elevates your digital presence.
desktop development

---

In the realm of Desktop Development, we harness the power of Flutter to deliver cross-platform solutions for MacOS, Linux, and Windows. Our proficiency in Flutter enables us to craft high-quality, consistent experiences across all platforms, ensuring your software reaches a wide audience. Trust in our expertise to create a desktop application that stands out in both functionality and user experience.
CROSS-PLATFORM DEVELOPMENT

---

Our Cross-Platform Development service is about creating a unified digital experience. We utilize the capabilities of Flutter to share code across web, desktop, and mobile platforms, ensuring a consistent and engaging user experience. This approach streamlines the development process and results in significant cost and time savings. Choose our service to create a digital presence that resonates with users across all platforms.
FLUTTER Development:

Your Pathway to Excellence
Accelerate Your App's Journey to Success with Rapid Market Entry, Cost-Effective Development, and Striking Design
1 . Unified User Experience
Guarantee a unified user experience across all platforms. With Flutter's single codebase, your web, desktop, and mobile applications seamlessly deliver consistent functionality, providing a coherent user experience on any device, old or new.
2 . expandable and Secured:
Rest assured that your project is designed for growth and reinforced for protection. Our stringent expert evaluations and comprehensive checks ensure unmatched quality and robust security for your product.
3 . Full Lifecycle Support:
We're your dependable ally from the inception of an idea to its fruitful culmination. Trust us with the whole development process, leaving you to excel at your core competencies.
4 . Elite development squad
Trusting us means entrusting your vision to a rigorously selected team, renowned for outstanding communication, drive, and technical skills. Enjoy the support of a harmonious, proactive team of experts, primed to bring your vision to life.
Rapid MVP building
Swiftly surge ahead in your innovation journey. Leveraging the strengths of Flutter and Strapi, we deliver your initial MVP within a month, propelling you swiftly to market.


---
Experience rapid innovation with Flutter and Strapi. Pairing Flutter's high-performance, vivid UI with Strapi's versatile, scalable backend, we expedite your MVP delivery within a month, catalyzing your pathway to market success. Witness your vision rapidly take shape into a tangible product.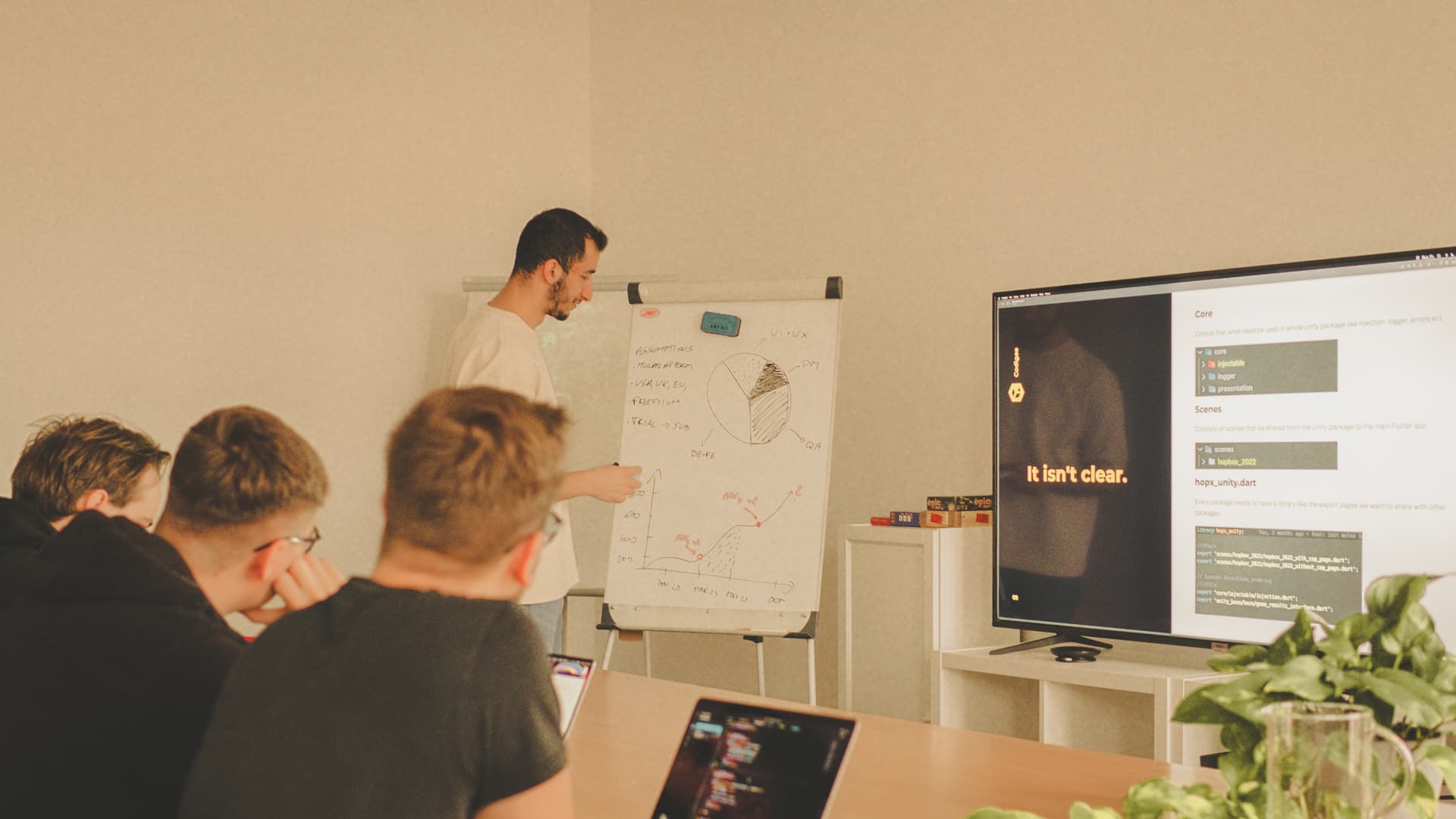 Workshops,

Product design &

Prototype
Workshops:
Strengthen teamwork and strategic foresight to lay a robust foundation for your product.
Product Design:
Craft engaging, intuitive user interfaces that strike a chord with your target audience.
Prototyping:
Breath life into your product, enabling crucial testing and refinement before its grand market unveiling.
Cost-Effective:
Through effective planning, design, and prototyping, sidestep costly errors and revisions, maximizing resource efficiency.
Competitive Advantage:
Our services equip you with a market edge, facilitating product testing and refinement pre-launch, ensuring it meets user expectations and outshines competitors.
DISCOVER

development

costs
---
Download our complimentary guide for a comprehensive understanding of potential investment in app development.
"Their developers are reliable, communicative, highly motivated, and experienced in Flutter development."
Jan Kaminski
VP Sales,
Applover Full-Stack Digital Agency
"They provide a very high level of services, and they've exceeded our expectations."
Maks Majer
CEO,
ITCraftship
"I am completely satisfied with AA+ Flutter Developers like Codigee."
Omkar Sane
CEO,
Rakugo India Pvt Ltd
Flutter is trusted by leading companies across various industries.
Let's make

something

together.
---
If you have any questions about a new project or other inquiries, feel free to contact us. We will get back to you as soon as possible.