Mobile App Development
---
create WITH US

exceptional

mobile experiences
---
Embark on a journey with us to create exceptional mobile experiences, as we shoulder the responsibility of transforming your vision into reality, freeing you to focus on what you do best.
Android & iOS - Flutter

---

Specializing in Flutter, a versatile framework for mobile development, we create high-quality native interfaces for both iOS and Android from a single codebase. Our approach focuses on optimal performance, elegant design, and robust functionality.
Cross-Platform Development

---

Our Cross-Platform Development service unifies your digital presence. Leveraging Flutter's capabilities, we share code across mobile (Android, iOS), desktop (Windows, MacOS, Linux), and web platforms. This approach ensures a consistent user experience and significantly reduces development time and costs. You're not only investing in a mobile app but a comprehensive digital solution that resonates with users across all platforms.
Wearables Development

---

Embracing the future of technology, we develop applications for wearables like Apple Watch and smartwatches. We create both independent apps and those that integrate with mobile platforms. Whether you're looking to extend your existing mobile app to wearables or create a unique standalone product, we have the expertise to make your vision a reality.
Mobile App Development:

Your Gateway to Success
Empower Your Business with Tailored Solutions, Rapid Deployment, and Engaging User Experiences
1 . Rapid Deployment:
Benefit from our efficient development process that guarantees prompt delivery, fast-tracking your market entry. Despite any challenges, we ensure on-time delivery, even offering initial MVP versions within a month.
2 . Scalable and Secure:
Enjoy peace of mind as your project is built for scalability and secured for safety. Through rigorous expert reviews and extensive testing, we promise superior quality and unyielding security for your product.
3 . Full Lifecycle Support:
From the birth of an idea to its ultimate realization, we're your steadfast partner. Entrust us with the entire development journey, while you focus on what you do best.
4 . Top-Rated Development Team:
With us, you're entrusting your vision to a highly selective team, chosen for their superior communication, motivation, and technical prowess. Benefit from a culturally cohesive, proactive team who are true experts, ready to make your vision a reality.
Rapid MVP building
Gain a swift advantage in innovative product development. Harnessing Flutter and Strapi, we deliver your initial MVP within a month, fast-tracking your market debut!


---
Harness the power of speed and innovation through Flutter and Strapi. Flutter, with its high-performance and rich UI, pairs perfectly with Strapi's flexible and scalable backend. Together, these technologies empower us to deliver your initial MVP within a month, significantly accelerating your journey towards market success. Experience this potent combination and watch your vision swiftly materialize into a viable product.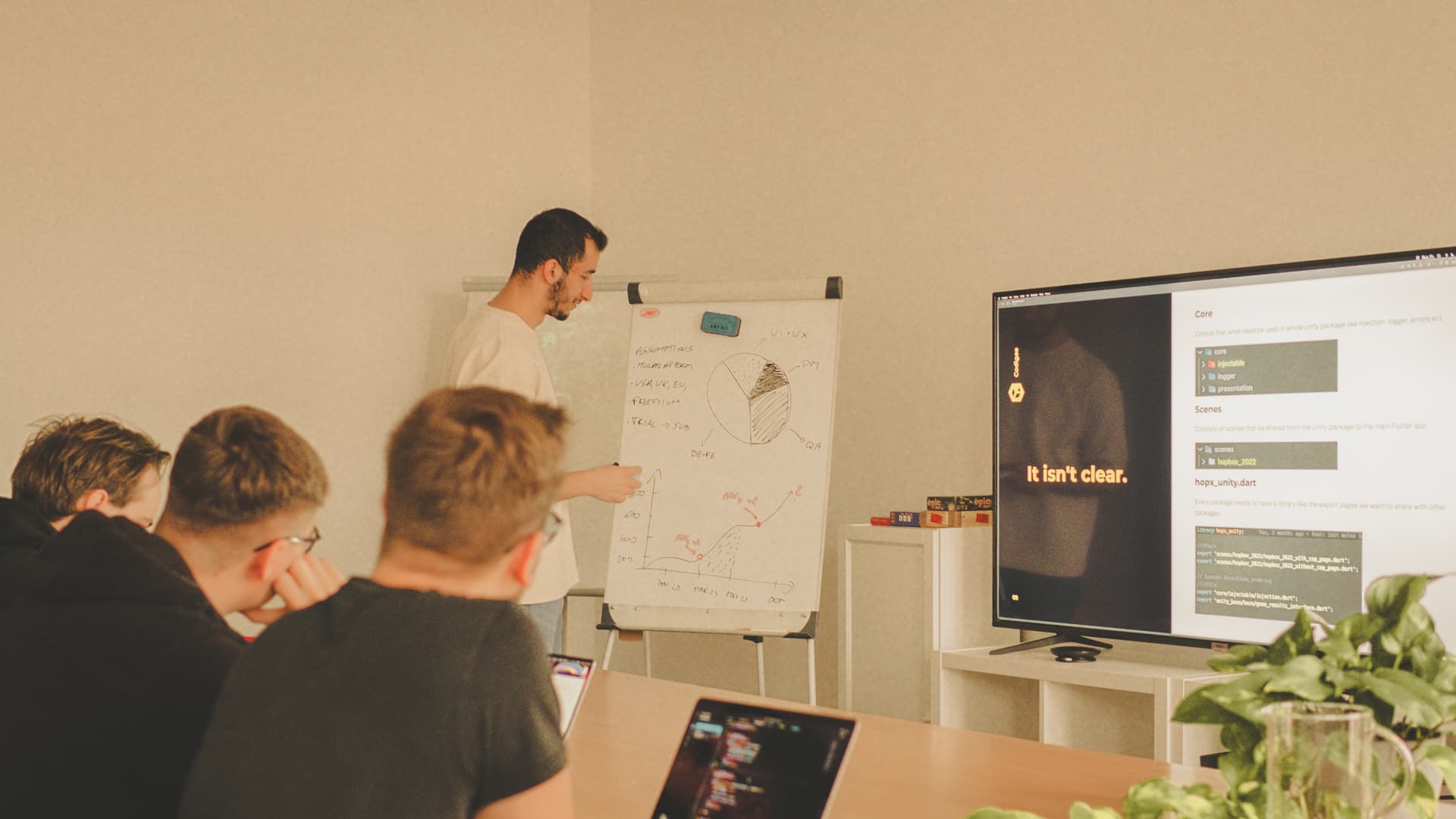 Workshops,

Product design &

Prototype
Workshops:
Foster collaboration and strategic planning to set a solid foundation for your product.
Product Design
Create intuitive and engaging user interfaces that resonate with your target audience.
Prototyping:
Bring your product to life, allowing for testing and refinement before market launch.
Cost-Effective:
By planning, designing, and prototyping effectively, you can avoid costly mistakes and revisions, ensuring a more efficient use of resources.
Competitive Advantage:
These services give you a head start in the market, allowing you to test and refine your product before launch, ensuring it meets user needs and stands out from the competition.
uncover

MOBILE APPS

costs
---
Download our free, informative guide to understand and anticipate your potential investment in mobile app development.
"Their developers are reliable, communicative, highly motivated, and experienced in Flutter development."
Jan Kaminski
VP Sales,
Applover Full-Stack Digital Agency
"They provide a very high level of services, and they've exceeded our expectations."
Maks Majer
CEO,
ITCraftship
"I am completely satisfied with AA+ Flutter Developers like Codigee."
Omkar Sane
CEO,
Rakugo India Pvt Ltd
Flutter is trusted by leading companies across various industries.
Let's make

something

together.
---
If you have any questions about a new project or other inquiries, feel free to contact us. We will get back to you as soon as possible.